I love discovering new authors, especially indie authors as there is just so much talent out there that sometimes gets over looked. One of my favourite indie authors to date that I have discovered through writing my blog isJosie Jaffrey. I absolutely fell in love with her writing when I read The Sovereign Series, therefore I was thrilled when I discovered she has a brand new series being published!
May Day is the first book in the Seekers series and is due for release in July, however I have the pleasure today to be able to reveal it's stunning cover which is designed by the talented Josie herself. Check out all the must know info about the new book below as well as a first glimpse of it's cover.
About The Book
If the murderer you're tracking is a vampire, then you want a vampire detective.
Just maybe not this one.
It's not that Jack Valentine is bad at her job. The youngest member of Oxford's Seekers has an impressive track record, but she also has an impressive grudge against the local baron, Killian Drake.
When a human turns up dead on May Morning, she's determined to pin the murder on Drake. The problem is that none of the evidence points to him. Instead, it leads Jack into a web of conspiracy involving the most powerful people in the country, people to whom Jack has no access. But she knows someone who does.
To get to the truth, Jack will have to partner up with her worst enemy. As long as she can keep her cool, Drake will point her to the ringleaders, she'll find the murderer and no one else will have to die.
Body bags on standby.
RELEASE DATE
9 July 2020
BOOK DETAILS
Publisher: Silver Sun Books
Author: Josie Jaffrey
Cover Art: Josie Jaffrey
Page Count: 386
Word Count: 100,000
Genre: Urban Fantasy
Rating: 14+
ASIN (Amazon): B0897NC74V
ISBN (Print): 9798645637330
About The Author
Josie lives in Oxford, England, with her husband and two cats. When she's not writing, she works as a lawyer, specialising in intellectual property and commercial law. She also runs a video book review club, The Gin Book Club, through her website.
To find out more about Josie and her books visit her websiteor give her a follow on social media; Twitter, Facebook and Instagram.
May Day is available to pre order now from Amazon*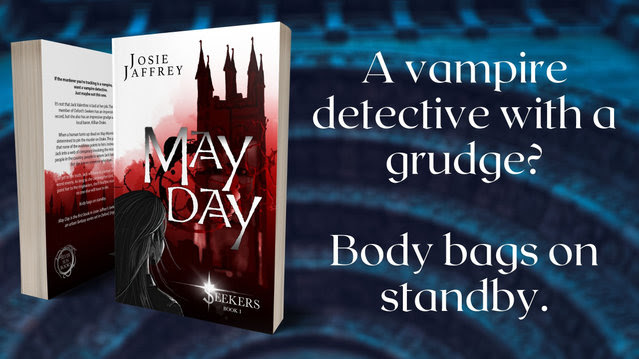 *This post contains affiliate links