**We were gifted an e-copy of this book in return for an honest review. All thoughts and opinions are our own**
I've been a fan of C L Taylor's books for a while now so was absolutely thrilled to be invited to take part in the publication tour for her brand new release. The previous books I've read from Taylor have all been adult so I was intrigued to see how her writing would adapt to a YA thriller in this latest release The Island. Thank you to HQ Stories for sending me an eARC of this title and for having me as part of the tour.
About The Book
Welcome to The Island.
Where your worst fears are about to come true…
It was supposed to be the perfect holiday: a week-long trip for six teenage friends on a remote tropical island.
But when their guide dies of a stroke leaving them stranded, the trip of a lifetime turns into a nightmare.
Because someone on the island knows each of the group's worst fears. And one by one, they're becoming a reality.
Seven days in paradise. A deadly secret.
Who will make it off the island alive?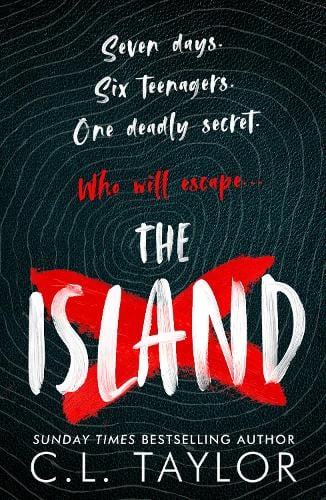 Review
The six teens have known each other their whole life after their parents bonded over NCT classes before they were even born. Now years later and the annual holiday trips are becoming more and more awkward as they begin to not only grow up but apart too. Still Thailand isn't the worst place to spend some time thrust together, they just have to remember not to mention why Jessie's family were absent from the last holiday…..
But their time in the luxury of the Thailand hotel is only temporary as the group are heading off on a birthday treat for Jefferson's birthday and this is no birthday tea, but a week on a private island honing their survival skills with a single guide to keep them company. It's not exactly everyone's idea of a great time but they know it's Jeffer's idea of heaven, however things take a tragic turn when their guide suddenly dies leaving them alone on a remote island with what they soon discover is a sabotaged boat. But who was listening on that first evening when the group shared their phobia's around the campfire and who is bringing their worst fears to life?
The premise of this book was enough to send chills down my spine and C L Taylor managed to keep that spine chilling suspense alive throughout. Told between Jessie & Danny's alternating perspectives it is clear from the start that each of the troubled teens had secrets to hide and piece by piece that jigsaw puzzle came together keeping me guessing until it's finale.
The island setting was really interesting and Taylor's descriptive writing allowed me to build a really good picture of the beautiful, yet often sinister surroundings of the jungle and beaches which really added something extra to the story. The characters are well fleshed out as the story progresses allowing the reader to understand how and why some of the events happen and I feel Taylor has pitched the topics discussed at the perfect level for a YA reader. I don't want to give any spoilers about the story content however please be aware of the trigger warnings included below if you are thinking about reading this book.
Having only read adult books from this author before I think the transition to a YA audience is a huge success. The skill and flow of her writing has maintained the same top notch level and hasn't lost any of the element of suspense and drama. I really enjoyed this book and flew through it, keen as always to find out what was going to happen as I had a handful of ideas about where things would go, all of which were wrong! I'd definitely recommend this to any thriller fans from teens upwards and I will certainly be checking out Taylor's other YA offering The Treatment soon, it's already on my wish list!
Trigger Warnings: Mental Health, PTSD, Phobia's inc snakes & spiders, childhood trauma, death, suicide, sexual assault
About The Author
C.L. Taylor is an award winning Sunday Times bestselling author of eight gripping psychological thrillers including SLEEP, a Richard and Judy Book Club pick for autumn 2019. 
She has also written two Young Adult thrillers, THE TREATMENT and THE ISLAND, which will be published in January 2021.

C.L. Taylor's books have sold in excess of a million copies, been number one on Amazon Kindle, Kobo, iBooks and Google Play and have been translated into over 25 languages and optioned for TV.

Cally Taylor was born in Worcester and spent her early years living in various army camps in the UK and Germany. She studied Psychology at the University of Northumbria and went on forge a career in instructional design and e-Learning before leaving to write full time in 2014. She lives in Bristol with her partner and son.
The Island is available to purchase now from Amazon*
*This post contains affiliate links